We're pleased to introduce MRS. MILLER'S APPRENTICE, the beautiful collection and BOM program by Pam Buda.

This is a 12-month BOM program which includes the pattern and all the fabric for the quilt top and binding.
Requires a 4 1/2" Easy Angle Ruler. (cost $7.99)


Journey to the mid-19th century and read Mrs. Miller's diary, as she tells the story of meeting young Ellie who just moved into the neighboring farm with her widower father. When Ellie shows interest in learning to piece quilt blocks, Mrs. Miller takes Ellie under her wing, and not only teaches her to piece, but helps her learn many other housekeeping skills she will need to know. Every month you'll join them in creating a beautiful variety of sampler blocks, and read diary entries telling the story of their growing friendship.
Indigo blue and light quilts were so very popular in the 19th century and are still a classic today! The quilt features several gorgeous Indigo blue prints, as well as many other shades of blue, and a blend of lovely light prints that make the sampler blocks sparkle! It's sure to be a treasured quilt in your collection.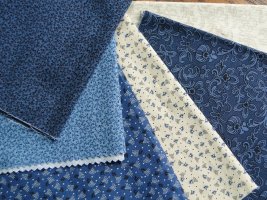 Finished quilt measures 77" x 89"
Cost each month: $24.95 (12 Month Commitment) Shipping will be $6.00 Priority Mail.

Matching Backing Option: Approximately 6 yards will be needed to back this quilt. Add this to your monthly payment for only $6.00 more making your total monthly cost $30.95 (12 Month Commitment) Backing fabric is shown below.