Last Minute Gift Ideas

Wonderful Selection of Quilt Kits




And Many More!
---


Always the Perfect Gift

A Mabel & Ethel's



Value Grab & Go Gifts
There's a Few Still Available

All Valued at Approximately $100.00
Yours for Only $24.99

---

Don't Forget if you Ordered a

Christmas Stocking
from Merle & Earl

The boys are done filling them up and
they are ready to be picked up.



All online stockings have been shipped!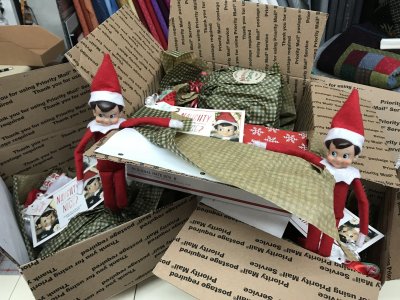 And all stockings include:



The boys included bonus gifts with the stockings because they got into some trouble last week. If you hadn't heard they took their car for a joy ride during the bad weather and had a little accident that they left the scene of and were arrested. We were embarrassed that we had to go and bail them out!


Then we found them napping the next day
because they were so tired from their night in jail.


Now today we find them goofing off in the zippers,
who knows why they choose to hang upside down!

---

Winter Weather Hours:

During the snowy winter months, it is our policy to cancel classes, groups and possibly close if the Perkins School District cancels school.

An email and posting on Facebook will be sent in the event
that the shop closes due to the weather.
It's always best to call the shoppe at 419-502-9123 before coming
if weather or road conditions seem poor to make sure we are open.
We are in Ohio you know,
you can never guess what the weather will be like. LOL!
---
Holiday Hours
Christmas
We will be closed December 24-December 31
New Years 2018
We will be closed January 1-2
Coming in January
More News about the M&E Sewrority 2018
Lots More Fabric Discounts for Next Year
2018 is going to be packed with all kinds of fun as we get ready
to celebrate 4 years in business in February!
---
As always thanks goes out to our
wonderful customers & quilting friends.
Remember: You can always shop online with M&E - Click HERE