Back in Stock
Get This Adorable Kit
And Have It Done in a Weekend!
---
6 New Moire Wool Thread Colors
#292, #347, #351, #445, #570 and #704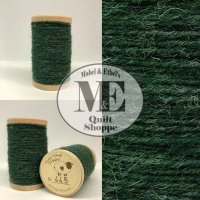 113 Colors in Total
Check Them All Out and Fall In Love
---
New Block of the Month
Laser Cut - Adorable!
Call and Sign Up Today
Starts in January 2018

---
Open Sew
This Friday, November 10th
Come Get Your Holiday Projects Done!
Call the shoppe today to signup.
---

New Fall Patterns in the Shoppe
Harvest Moon and Fall
from Heart to Hand



Who Doesn't Love Pumpkins?
Check out this one, you can do it in cottons or wool!
Black Birds Pumpkin Patch
Designed by: Cheryl Gunn



Want it all picked out for you?
Check out this Gorgeous Pumpkin Runner Kit
Made With Beautiful Batiks
Get Yours Today
The Great Pumpkin Harvest
Designed by: Karla Alexander

---
Holiday Hours
Please Keep In Mind The Following Holiday Hours for M&E
Thanksgiving - Closed: November 23-24-25-26-27
Christmas - Closed: December 23-24-25-26-27-28-29-30
New Years - Closed: January 1-2
Click HERE for the Calendar
Please Keep In Mind We Are Always Closed Sundays & Monday
---
As always thanks goes out to our
wonderful customers & quilting friends.
Quilting Blessings,
Mabel & Ethel
Remember: You can always shop online with M&E - Click HERE