Bonnie Sullivan Trunk Show
Now in the Shoppe!



Stop in and see these gorgeous designs by Bonnie Sullivan.
Individual Patterns with Pre-Printed Fabric Panels included,
so all you need to do is add your own wool and a few stitches.
Quick and easy and oh sew fabulous!


Sew many beautiful designs in her newest book:




Check out these wonderful framed wool projects!


Stop in and see them up close and personal while they are at M&E.


Bonnie Sullivan Block of the Month
Starting in October



You're probably wondering why are we only showing you 7 blocks if it is a 12 month program? Well Bonnie Sullivan has just finished designing the remaining months so as soon as we get pictures of them we will share with you. Click the pictures above to find out more information about this block of the month.
---

Spots are filling up fast for the
Getting to Know Hue
Block of the Month
Stop in and check out the quilt in person and sign up soon.
Fabric will be arriving next week and Mabel will start cutting
to have this start in September.
It is a stunning quilt. Picture does not do the quilt justice!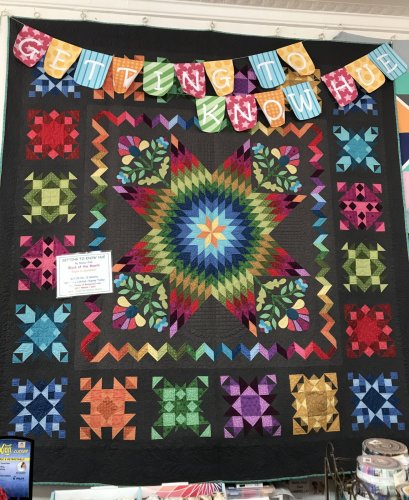 Call the shoppe today to sign up.
Remember we ship our blocks of the month!
---

Grunge Layer Cakes are Here
New Colors


We are thinking of adding Grunge on the bolt at M&E,
let us know if this is a fabric line that you would like us to carry?

---

As always thanks goes out to our
wonderful customers & quilting friends.

Quilting Blessings,
Mabel & Ethel



Remember: You can always shop online with M&E - Click HERE