We hope those of you that were able to attend the
First Annual Sewrority Sewcial
had a good time last night.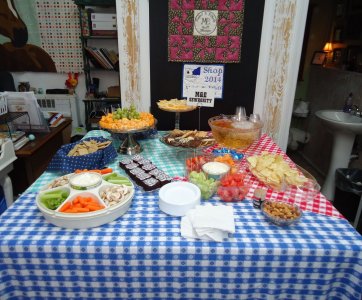 We want to thank you all for being part of the
First Sewrority Class of M&E.
And the Winners for 2015 were:
Saranell Braniger - $100 Gift Certificate
Betty Willinger - $50 Gift Certificate
Karen Stewart - $25 Gift Certificate
Tracie Young - Morning Star Quilt Kit
Kathy Weilnau - Military Quilt Kit
Sue McKillips - Valley Charm Pack
Janet Cummings - Summerfest Charm Pack
Linda Czekaj - Garden House Charm Pack
Karen Wightman - Morris Earthly Paradise Charm Pack
Deb Etchill - 2016 Moda Calendar
Pam Blank - 2016 Moda Calendar

Discount coupons will be emailed separately to those members who qualified in 2015 based on the number of deals they took advantage of.
Coupon will be good for the month of February.

Congratulations to all our Sewrority Members!
We are sew happy you are part of our family.